Caught Creatures
- Daniel M. Davis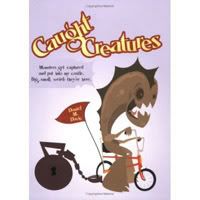 Brought to you by the wonderful imagination and talent of monsterologist, illustrator, and self publisher Daniel M. Davis is this treasure - a monster haiku book! Really, what could be more perfect? This book shows all of the amazing and sometimes amusing monsters that he has trapped and stuck in his steam castle.
The illustrations are delightful. All 48 pages have something eye-catching and snazzy to offer. What I appreciate most about this book, other than the fabulous creativity, is the fantastic attention to detail. I can stare at each illustration multiple times and still find something new to admire. Every touch from the monsters to their props to their keys to the light fixtures in their cells is well thought out and drawn wonderfully.
The haikus are clever and funny without being cheesy or a stretch. They really give character to the picture of the monster. Bonus, there is a how-to haiku section at the end of the books for all of those (like myself) that forget the darn syllable pattern!
This book is a great gift for that reader who has "everything."
After Halloween
- Daniel M. Davis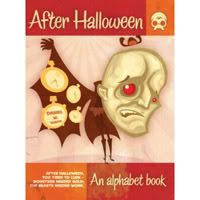 The third book released by Steam Crow Press explains just what the monsters of Halloween do to make a living after the holiday is over. After all, they have bills to pay like the rest of us. As if this wasn't cool enough, it is also an alphabet book.
Again, I am floored by the beautiful illustrations and the witty writing style of Daniel M. Davis. Just because it is an alphabet book doesn't mean it's only for kids. The variety of monsters will delight anyone who appreciates otherworldly creatures. The illustrations are brimming with detail, vibrance, color, and wicked fun. Envisioning these tricky Halloween monsters peforming the most menial of tasks is quite amusing!
It is also good to point out that the book (as well as Caught Creatures) is sturdy. It would be very difficult for a small child to tear, chew, or otherwise maim this book. I own too many books with the cover and binding falling apart, so this is important for me to note.
Oh! Make sure you look for the letter in each illustration.
Another wonderful book published by Steam Crow Press, bravo gang!
I simply cannot say enough good things about these books. The stories and illustrations are delightful, clean, and innovative. They are great for children and adults alike. Also, the author is a SUPER nice, engaging guy. I had the pleasure of meeting he and his wife at Comic Con in 2007 and exchanging a couple of emails with the monsterologist himself when I purchased these books. Learn more and buy your own copies at
Steam Crow Press
!