Just like a slinky black dress, a Darth Vader costume is classic. Most people think that they have to put together the complete costume to movie wardrobe exactness to wear it. And that has its merits. Seeing a person of an intimidating stature sweeping across a convention hall as the Dark Lord with a billowing cape is impressive. I've stepped aside for more than one of those cosplayers. But. You can also deconstruct the costume or do it in different colors or change it a bit to hilarious effect. I applaud these different versions of Vader. Here are eight ways people have changed it up.
Beach Bum Vader
- Easy, comfortable, funny. You could do a tropical theme or hula theme too. A Vader helmet with a grass skirt would make me chuckle.
Cardboard Vader
- Go boxy! It's friendly to the environment... though the black spray paint you'll use might negate that. Here are
instructions on making the left Cardboard Vader
.
Chef Vader
- I have a hunch this guy might be a chef in real life. I could be wrong. Those pants are easy to get though, and though I happen to think Jar Jar on a platter is kinda awesome, you can substitute. Everyone has a character in the SW universe they hate or at least dislike.
Fairy or Princess Darth Vader
- Vader does look pretty in pink and frills. Sorry Mr. Dark Lord, it's just true. Though these images are of little girls, this would translate to adults female and male. I would love to see a burly guy dressed up as combo of Darth Vader and the tooth fairy. In theory. The StarWars.com blog recently featured Darth Fairy, and here's a
blog post about how the costume came together
.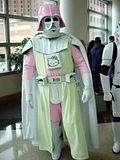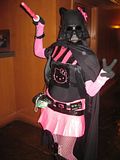 Hello Kitty Vader
- I think this started from a Photoshopped image way back when. It's an odd combination - cute + evil - but it works out. Especially when you make the helmet in the shape of Hello Kitty!
Sexy (in a classy way) Vader
- My problem with "sexy" costumes is that they usually leave way too much bare skin. And bare skin doesn't always equate to hot. I like this costume because it's full coverage and gorgeous.
Evening Arwen
made this as a personal project, and I've seen similar creations. If you wear this, you won't need the Force.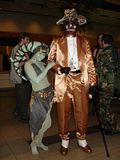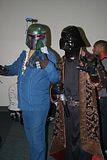 Pimp Vader
- One of my favorite variations on Darth Vader. You do have to work on your pimp attitude before you wear it though; that makes the costume. If you can get a Twi'lek or a tramped up Leia to play your hooker, even better. This one would also be fun to crossplay. Hey, I'd be more scared of a female pimp.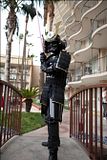 Shogun/Samurai Vader
- I've seen just a couple of this type of Vader and both costumes were stunning and obviously made with care. This wouldn't be any less work than the regular Vader costume, but the look is worth it.
Which Vader is your favorite or have you seen other cool ones?